Posted on April 14, 2017 on MMoGames
A new competitor has entered the online top-down team-based arena shooter subgenre! The Games of Glory open beta is bringing its version of MOBA-style closed arena combat to both PlayStation 4 and PC players.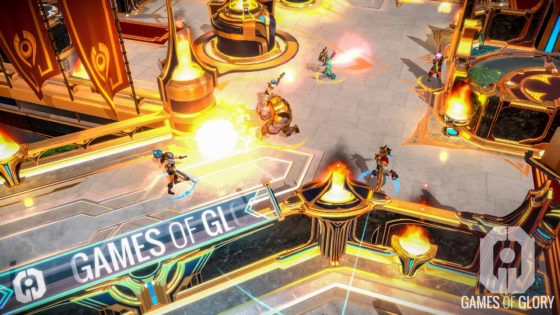 Games of Glory's open beta feature set includes 15 unique characters divided into five different classes – tank, support, carry, assassin, and scout – with over 50 different weapons to select. Two maps will be available during testing; Arkashan is a 4v4 arena where players must capture points to siege the enemy team's base, and Svandia is a 3v3 battleground where a random player assigned a Star on each team must be taken down.
In addition to unique characters and ways to fire weapons at said unique characters, Games of Glory will also have a Club feature that lets players create a team in-game. Clubs can assign custom uniforms and logos that are either imported or created in-game, letting like-minded players create a unified identity.
Games of Glory is releasing its open beta for free on the PlayStation Store and Steam on April 25th. Regardless of platform, players will get to clash across both PC and PS4. You can find out more about the game on the official website, and check out a cinematic trailer below.
Our Thoughts
While the team-based top-down shooter market isn't exactly a booming sector of online gaming, Games of Glory sounds like it has enough unique ideas to make it stand out among other competitive online games. With the start of open beta, all that really can be lost for taking a look is a bit of time, so it's hard to not dive in and take a peek.